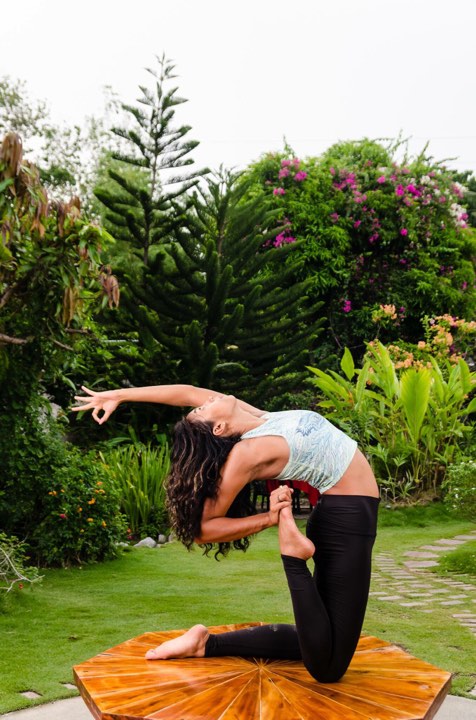 An Intro to Puri Bali's Khat Mandu
Favorite Quote:
"I'll try anything once, twice if I like it, three times to make sure."
Favorite Yoga Pose:
Eka pada rajakapotasana
(One-Legged King Pigeon Pose)
Khat Mandu one of our amazing International Ambassadors who will be co-hosting our Bali Retreat in April.
Hi, my name is Khat! I am a traveling yoga teacher previously based in Queens, NY and currently living my daydream in Bali, Indonesia! After only a few years of practice, yoga found me in the midst of my chaos. I was making the most money I ever had at 19 years old, in a cozy little cubicle on the 14th floor of Grand Central Station. Sure enough, I realized how much more I longed to trade my perfectly bobby-pinned bun for a messier one, how I wished to move around in comfier clothing than an ironed suit and 4-inch heels, all while trying to soothe my constant itch to trot my little feet to the ends of the world instead of roaming the concrete jungle that I knew like the back of my hand. Yes, that is life for so many others.. But I knew it wasn't for me!
Yoga asked me to tune into my truest self. What makes my heart smile? Yoga asked me to be present in every moment, because it's all we really have. What can I release that is no longer serving me? Yoga asked me to understand my monkey mind. How can a few minutes of mindful movement and meditation allow me to be the best version of myself?
I've learned that, as humans, we share much more than genetics. We share one planet, it's oxygen, it's resources and it's space. That is why COO sings to me. Our love energy is boundless and takes no physical shape or appearance. I rarely see people of color taking even a quarter of the traveling population. Thankfully, it is growing! But I've partnered with Colors of Ohm to reach out to my brothers and sisters to help them find the confidence to adventure in a gift we all share- travel AND wellness!
Yoga had always been there and traveling ran in my family since birth! Why not bridge the two!? I became a traveling teacher after finding small teaching gigs wherever I traveled to. I was asked to teach at an eco-resort in Uluwatu, Bali in August 2016. As the stars aligned one faithful night, I met my now-boyfriend in a steamy hot tub! We now live off a cliff with our two fur-babies and I wouldn't trade this journey for the world. I went from the hustle of 4 jobs in New York City to only teaching yoga and taking on projects that align with my own values!
I am so excited to co-host you on the magical island of Bali. She's been waiting for you! Please take off your shoes, rinse off in the Indian Ocean, recharge and rejuvenate yourselves on a week-long immersion with us.
Love and light,
Khat